For links to all the books here please click on the book cover. This will take you to Amazon where they are available for sale in both paperback and Kindle formats.
FICTION:
The Virgin Pedagogues: (published March 2015)
IT IS 1965. JOHN GARNETT IS 18 YEARSOLD AND ON THE VERGE OF ADULTHOOD.
THE AUTHOR IS THE NARRATOR. HE USES JOHN'S SHARP WIT TO TELL HIS STORY. THIS IS SOMETIMES EXPRESSED THROUGH THE CATHARTIC 'RADIO VOICE' OF HIS IMAGINATION.
HUMOUR, SATIRE AND NOSTALGIA ARE THE TOOLS TO STEER THE READER THROUGH AN ENTERTAINING ACCOUNT OF JOHN'S NEXT TWO YEARS.
JOHN USES THE ROSE-COLOURED SPECTACLES OF HUMOUR TO ESCAPE THE REALITY OF HIS DYSFUNCTIONAL FAMILY LIFE.
HE TRADES THE RURAL TRANQUILLITY OF EAST ANGLIA FOR STUDENT LIFE IN THE NEWLY EMERGING, CONCRETE UTOPIA OF THE CITY OF BIRMINGHAM.
HE IS LOOKING FORWARD TO TRAINING AS A TEACHER - A VIRGIN PEDAGOGUE.
HISTORY IN THE MAKING EVOLVES AROUND HIM. NOVEL FRAGRANCES OF FREEDOM ARE IN THE AIR. OUR HERO IS ON A ROLLER COASTER. JOHN'S EXPERIENCES BELIE MUCH OF THE FOLKLORE OF THE SIXTIES.
THE NOVEL PROVIDES AN ARENA WHERE THE AUTHOR'S PORTRAYAL OF THE FLIP SIDE OF THAT PERIOD SEES REALITY LOCK HORNS WITH MYTH. FOR SOME, THE REVOLUTIONARY EVOLUTION TOOK LONGER TO FLOWER THAN LEGEND WOULD SUGGEST. SHARE THE SENSATION OF GROWING UP IN THIS BRAVE NEW WORLD. TOPICAL EVENTS AND POPULAR CULTURE ARE INTEGRAL TO THE WORK.
--------------------------------------------------------------------------
Indirect Hit (published 2014)
Jeff Stott is an established and ambitious pilot in the USAF.
After a tour in Afghanistan, he is sent on a liaison posting at Marsby Air Force Base in Norfolk, England.
Whilst stationed there, he is grounded after an inexplicable crash in a multi-million pound European Tornado aircraft.
Jeff spends some of his enforced Rest and Recuperation time visiting his RAF navigator friend, 'English' who has a home in Norfolk.
During this time, Jeff meets and starts to fall for the enigmatic Rachel. However, when Jeff attempts to meet Rachel for a second time, events unfold in a way he could never have imagined possible.
Jeff's search for Rachel takes him down a road of bizarre happenings whereby he starts to question his own sanity.
The plot trades on the precarious nature of fate. It is constructed around a 'What If' scenario which will appeal to anyone who muses on life's turning points. The story blends what is, what was, what might have been and, most significantly, what has to be.
The novel blends trains, planes and automobiles with romance, mystery and adventure. There is also a liberal sprinkling of humour to enhance the plot.
----------------------------------------------------------------------------
Children's Fiction
Starlight is a children's science fiction story set in the future.Giant-sized beings live on the planet Starlight. It is far away from Earth in another galaxy. These friendly creatures help a group of tiny, human astronauts who crash their spaceship on the planet. The humans have come from Earth to try and seek help for their planet which is being destroyed by pollution. They must get help or find a habitable planet to rehome the people of Earth. Each illustrated page is Stig Tomas' original art work in encaustic wax overlaid with pen and ink. Great for kids who love sci-fi.
----------------------------------------------------------------------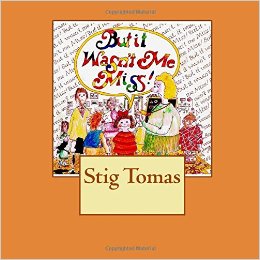 'But It Wasn't Me Miss' is an illustrated children's story book, written in verse. It is aimed at children up to the age of about 10. The illustrations are in colour and the media used are pen and crayon. The story tells of a series of disastrous events in a school. The possible culprit denies all knowledge of these 'accidents' by insisting "but it wasn't me, miss." ! The book is humorous, but raises underlying questions about the issues surrounding taking responsibility for your own actions. Verse and rhyme are good introductions for children to their language and culture. Verse is an oral art and makes the words easy to remember. In this story the text and pictures are fully-integrated and verse makes the telling of the story fun.